AKC's Canine Good Citizen (CGC) Program is one of the most rapidly growing programs in the American Kennel Club
For dog ages 6 months and up
Requirements: Dogs must be friendly with other dogs and people.
Pre-requisite: Must have successfully completed Basic Obedience Level One and Level Two Obedience.
Vaccine: Proof of current vaccinations.
Length
The class is a 7 week curriculum that held outside only. We combine Canine Citizen Class with our Public Manners curriculum.
The course prepares students and their dogs to take the American Kennel Club's Canine Good Citizen (CGC) test, a certification program designed to reward dogs who demonstrate good manners at home and in the community.
The class is a forum to practice all of the skill necessary to pass the CGC test such as, accepting a friendly stranger, sitting politely for petting, supervised separation from the owner, and many other skills that prove a dog's social-savvy. Passing the CGC test has many benefits. For example, it can expedite acceptance into Animal Assisted Therapy programs, advanced behavioral or agility classes, or even doggie daycare or boarding facilities. More valuable than the piece of paper, however, is the piece of mind that your dog is a mannerly, well-behaved member of your household – and the community at large.
This class is a good start if you are interested in Pet Therapy. If your dog has a lot of love to give, you might consider volunteering him as a pet therapy dog. This class is one step in preparing for the pet therapy, which is requires more extensive preparation and testing to get insurance and in order to participate in pet therapy programs in nursing homes, hospitals or other settings.
We start with a 1.5 hour orientation to prepare you & your Pooch for the class as well as give you the education and answer you require so you can understand your fido's needs and why he does things differently than you expected. It is essential to understand your partner in order to work together as an effective team.
Our Public Manners Class prepares your dog to become an AKC Canine Good Citizens. This class will ensure that your dog is ready to hit the dog park and any social events by teaching them good manners. Here we concentrate on teaching and strengthening your dog's basic and advanced manners, obedience, and focus. We'll teach him to respond on your first command, listen despite distractions, learn and practice his manners with strangers and other dogs
This class prepares you and your dog for the Canine Good Citizen test and is also a great class to prepare your dog for behaving responsibly around other people, other dogs, and distractions. We recommend completion of Obedience – Level 1 and Obedience – Level 2 (or equivalent) prior to enrolling in this class. The CGC test will be administered during the final class session. The test fee is included in the cost of the class.
Much of the course concentrates on socialization, advanced obedience skills, further work on recall, walking on a loose leash, walking by other dogs and strangers, settling down outside a local restaurant.
The course is designed to offer great opportunities for you to put your dog in "real-world" situations while remaining in a controlled environment, allowing you to train your dog and establish the relationship and leadership you'll need with your dog when you go out in public.
You will learn to work with a 6 foot and 20 foot lead. Our Public Manners / Canine Good Citizens Class prepares you for "your life with your dog in the world" because in real world we don't live in class rooms. We go to training classes where our dogs do relatively well in a contained environment – But do we teach our dogs to deal with the excitement and distractions when they are outdoorsy?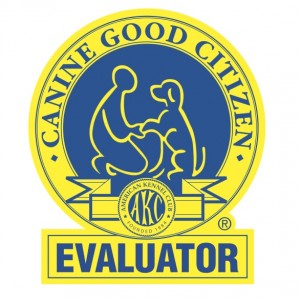 Welcome to the AKC's Canine Good Citizen (CGC) Program. Started in 1989, the CGC Program is designed to reward dogs who have good manners at home and in the community. The Canine Good Citizen Program is a two-part program that stresses responsible pet ownership for owners and basic good manners for dogs. All dogs who pass the 10-step CGC test may receive a certificate from the American Kennel Club.
Many dog owners choose Canine Good Citizen training as the first step in training their dogs. The Canine Good Citizen Program lays the foundation for other AKC activities such as obedience, agility, tracking, and performance events. As you work with your dog to teach the CGC skills, you'll discover the many benefits and joys of training your dog.
Training will enhance the bond between you and your dog. Dogs who have a solid obedience education are a joy to live with-they respond well to household routines, have good manners in the presence of people and other dogs, and they fully enjoy the company of the owner who took the time to provide training, intellectual stimulation, and a high quality life. We sincerely hope that CGC will be only a beginning for you and your dog and that after passing the CGC test, you'll continue training in Pet Therapy, Agility, tracking, or performance events.
The Canine Good Citizen class – CGC program, is a two-part program that stresses responsible pet ownership for owners and basic good manners for dogs. All dogs who pass the 10-step CGC test will receive a certificate from the American Kennel Club. This certificate is not a title, but rather a symbol that the team passed the requirements of the program, and is therefore a good citizen.
The Canine Good Citizen Program (CGC®) lays the foundation for other AKC activities, as well being a basic requirement to a Therapy Dog career. This type of training enhances the bond between the owner and dog, plus enhances the satisfaction level of the dog team.
The cost for this seven week curriculum is $200
AKC Canine Good Citizen certification is rewarded to your canine when he passes the testing at the last day of class.
The AKC CGC Class has ten skills that must be mastered by all dogs that successfully complete it. These skill exercises are done on leash, and consist of the following:
Test 1: Accepting A Friendly Stranger
The dog will allow a friendly stranger to approach it and speak to the handler in a natural, everyday situation.

Test 2: Sitting Politely For Petting
The dog will allow a friendly stranger to pet it while it is out with its handler.

Test 3: Appearance And Grooming
The dog will welcome being groomed and examined and will permit someone, such as a veterinarian, groomer or friend of the owner, to do so.

Test 4: Out For A Walk (walking on a loose lead)
The handler/dog team will take a short "walk" to show that the dog is in control while walking on a leash.

Test 5: Walking Through A Crowd
The dog and handler walk around and pass close to several people (at least three) to demonstrate that the dog can move about politely in pedestrian traffic and is under control in public places.

Test 6: Sit And Down On Command And Staying In Place
The dog will respond to the handler's commands to 1) sit, 2) down and will 3) remain in the place commanded by the handler (sit or down position, whichever the handler prefers).

Test 7: Coming When Called
The dog will come when called by the handler. The handler will walk 10 feet from the dog, turn to face the dog, and call the dog.

Test 8: Reaction To Another Dog
To demonstrate that the dog can behave politely around other dogs, two handlers and their dogs approach each other from a distance of about 20 feet, stop, shake hands and exchange pleasantries, and continue on for about 10 feet.

Test 9: Reaction to Distraction
To demonstrate the dog is confident when faced with common distracting situations, the evaluator will select and present two distractions. Examples of distractions include dropping a chair, rolling a crate dolly past the dog, having a jogger run in front of the dog, or dropping a crutch or cane.

Test 10: Supervised Separation
This test demonstrates that a dog can be left with a trusted person, if necessary, and will maintain training and
good manners. Evaluators are encouraged to say something like, "Would you like me to watch your dog?" and then take hold of the dog's leash. The owner will go out of sight for three minutes.
Class Schedule: To Be Announced