The Perfect Solution for Busy Pet Parents
This is not doggy daycare
Dog Training is a lifestyle change, it must be put into practice and use on a daily basis over a period of time, in order for it to be perfected and become automatic.
Our Day Camp Training Program is an intensive program where your dog will work one on one with a trainer. Your dog will be immersed in learning both inside our facility and outdoors with distractions walking.
In addition to providing quality care for your dog or puppy while you're away for the day, we offer comprehensive enrichment, socialization, and training. Enjoy a well-trained dog without interrupting your busy schedule. Browse our Daycare and Day Camp Training School options below, and let's get started!
Our Training Academy is set up to give your dog a real life like experience. 
We want our guests to feel at home. Day Camp training takes place all around the facility as we work on manners such as settle, off the counter, (leave It). door manners, come, recall and so much more. At Day Camp, your dog will be taught to enjoy lounging around on their dog beds while learning not to jump on furniture.
We customize the training to tailor to your needs. We value your input. Let us know what you specifically want us to work on with your dog.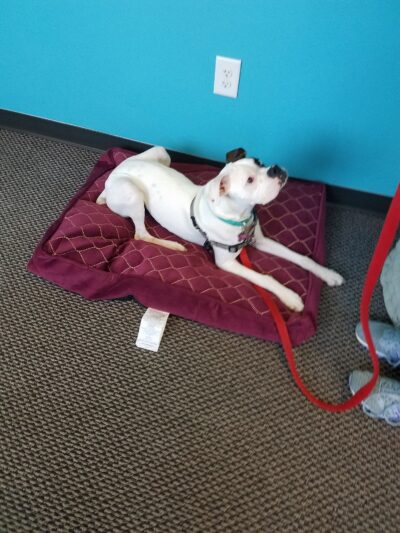 Our Doggy Day camp training is like no other. Every dog that comes to us will be treated like family, loved, nurtured and extremely cared for just like he/she is one of our own.  Our place will be their home away from home. We feel that day camp training must be much more than dogs playing together or being taken out of their run for just an hour of training and play time.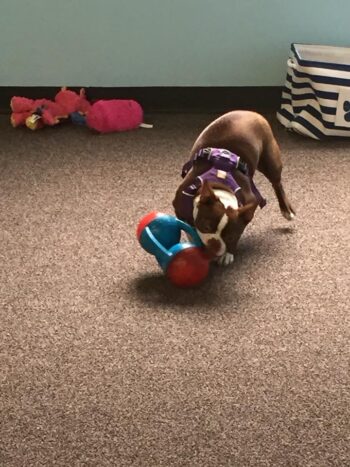 Our Canine Campers will stay busy & have fun! Instead of kenneling your dog or letting them run crazy, thus promoting bad behavior- We provide a structured mentally and physically challenging program.
Day Camp will leave your dog mentally and physically satisfied. If you would like your dog to have a positive training experience while you are at work or out for the day, then Day Camp is an excellent addition to your training program.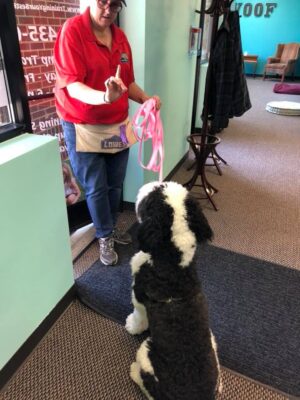 We treat each dog personally, giving it its own space with toys and bedding where it can rest between lessons and play time. We alternate rest time with mental and physical exercise including play and lessons. Our canine students receive individual training and group exposure for socializing and distraction proof training.
Our staff treats each and every dog in our care as they would their own. Your pup plays and socializes with fellow pups  & lots of love and cuddles from daycare staff and trainers, and learns new skills to set her up for life.
At Day camp, your dog will have a busy day of physical activity (playtime, obstacle course), mental exercise as well as rest (quiet time). Our main goals are to refresh, reinforce and sharpen abilities, fitness train, and socialize your dog properly and carefully.
Our Day Camp Training Packages:
Package # 1– Puppy Day Camp- For puppies 14 weeks to 5 months of age. Training and socialization for young puppies is critical for their healthy development. We equip your pup with everything they need to be a confident, relaxed, and well-mannered adult dog that you'll be proud to take anywhere.
Puppy Day School Requirements:           
Puppies must be at least 14 weeks of age.
Proof of vaccinations are required.
Puppies must be on a harness and leash.
Please pack a lunch along with any of your puppy's toys and bedding if you so desire.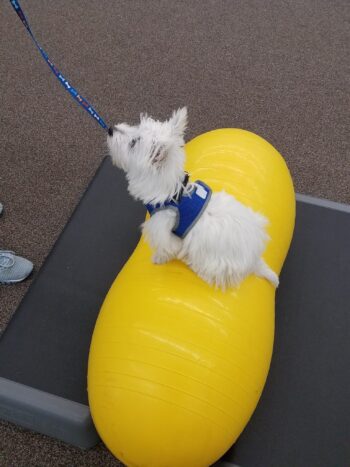 Package #2
–

Doggy Day Camp- For pups 6 months and older.
Do you want a dog who can go anywhere and everywhere with you? Imagine your adult dog walking calmly with you to the farmers market, lounging peacefully beside your chair at an outdoor restaurant, and greeting your friends politely with four paws on the ground! Training a dog to be confident and obedient in public takes a lot of practice, so enroll your dog in training day school today.
This program teaches your dog the skills that our clients ask for the most. Your dog will learn:
Impulse Control
Loose Leash Training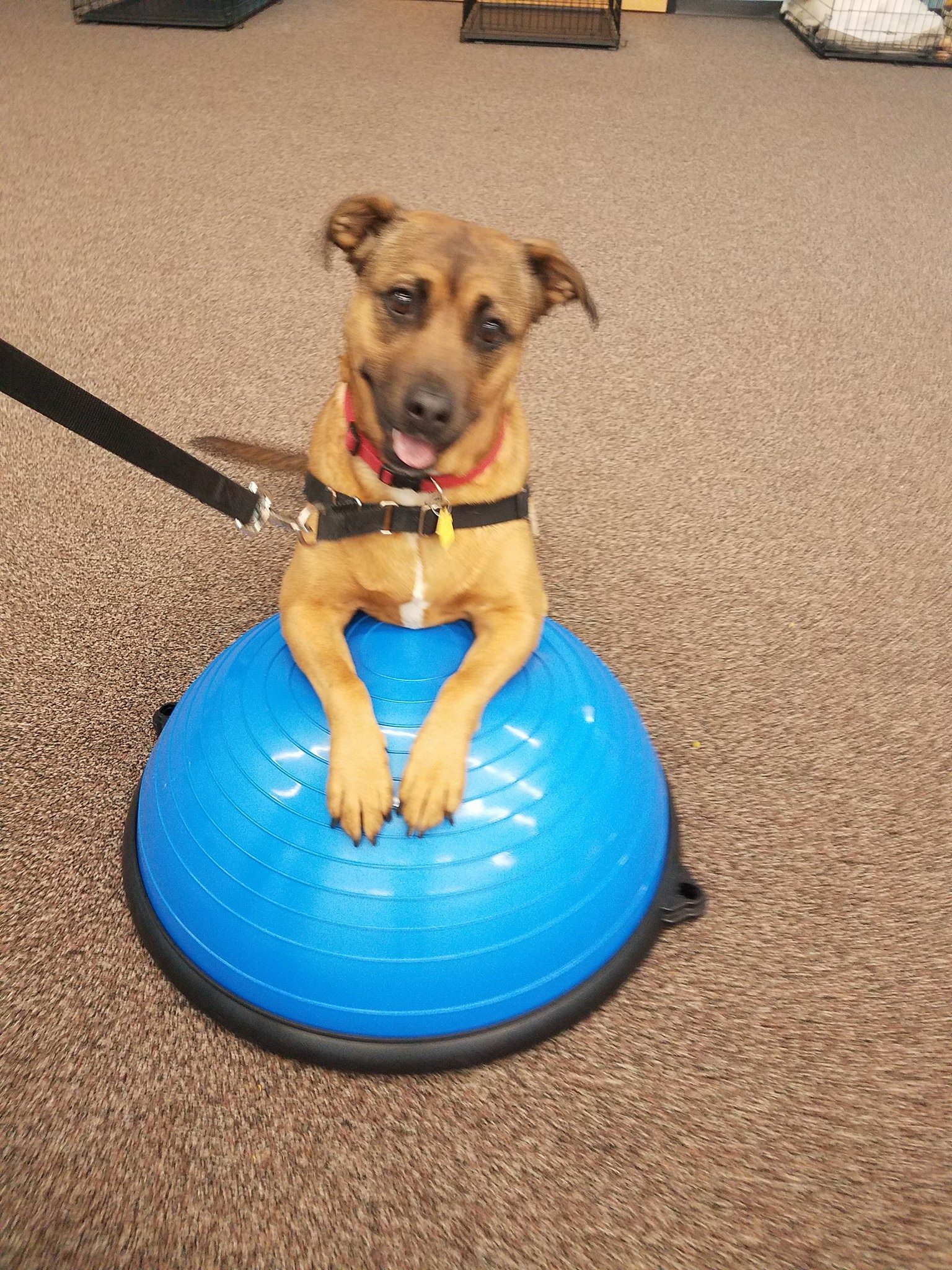 Dog Obedience Manners
Obedience commands
Settle on a mat
Door Manners- Sit/ Wait / Release
Proper Meet-n- Greet
Come when called
Package # 3-

Our Small Dog Day School Training Package

for small dogs ranging from size 3 lbs. to 12bs. Includes one hour of training, 2 walks plus potty breaks, lunch and playtime.
Small dogs learn just like the medium and large breeds. We pride ourselves on training your little pup to to be well mannered and trained with same method as do larger size pups.
Our Small Dog Day Camp Program covers the skills your dog needs to be a well – mannered and sociable pooch. You will be amazed and so proud of your well-trained companion. Small Dog Training is crucial if you want to take an active stance and assure that your small dog will turn out to be a happy, well-adjusted adult dog. 
Training Skills covered in Day Camp:                         
Impulse Control 
Leash Training
Manners
Obedience Commands
Proper meet-n- Greet
Settle on a mat
Door Manners= Sit/ Wait/ Release
Come when called
Proper Meet-n- Greet
Come when called
All training packages includes one hour of training, 2 walks, potty breaks, lunch and playtime.
Choose From Three Training Programs:
DAY SCHOOL – Standard- 
4 scheduled weeks of attendance, 2 days per week. (8-day training program) 
DAY SCHOOL – Gold- 
6 scheduled weeks of attendance, 2 days per week. (12-day training program) 
All programs include:
Initial Consultation to discuss training goals
Two (2) private training sessions with you to transfer your puppy's new learning to your home for a successful, fun experience—and lifelong companionship
 Playtime in daycare
Add additional weeks of training or individual one-on-one training sessions at any time. Just tell us how we can best support you and we'll customize your program.
You may also choose our
DAY SCHOOL – Custom Training Package –
Individual Training Session (session )1- Personalize your pup's syllabus to create an individualized training plan. This package includes:
     *     Initial Consultation to discuss training goals
One private training session with you to demonstrate training and transfer of your puppy's or dog's new learning with handwritten homework.
Playtime in daycare 
Our Day Camp is the perfect combination of daycare and training—perfect for busy pet parents who want a calmer, trained pup with a lot less work.
The beauty of our training program is that you can alternate day of training with daycare.  We require the minimum of 2 days training to begin with. You can drop you puppy or dog off on alternate days for day care where Dog Gone Happy Staff will take great care of canine companion. Your furry friend will experience positive socialization skills and pay time time. Your dog will be fed and taken out regularly for potty breaks and receive lots of affection.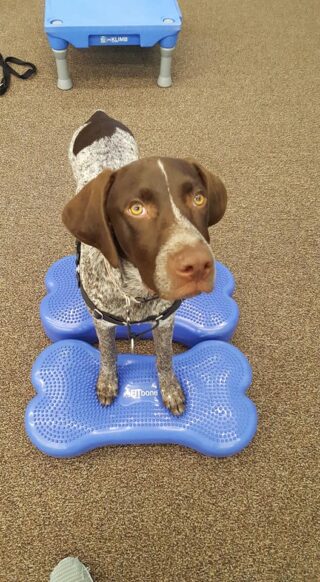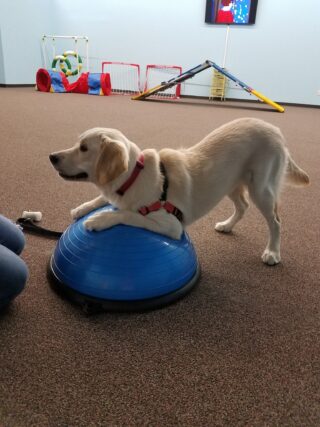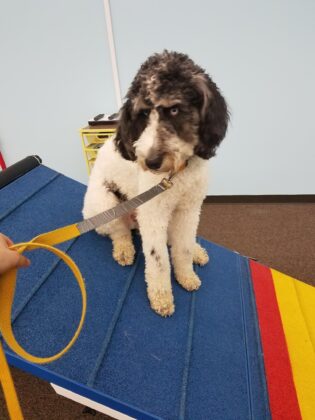 T

o Qualify for Day Camp:
Your dog should be friendly with both people and other dogs.
You must provide a meal and soft small size moist training treats for your dog during the day. 
 Dogs older than 4 months must have proof of current vaccinations DHLPP, Rabies, and Bordetella (kennel cough) and fecal exam.  
Proof of Flea & tick Treatment
Your dog must have a negative fecal examination before starting the day camp program.
All dogs are expected to have on the required training equipment. Dogs 25 lbs. and up must be on the easy walk harness. Smaller dogs must be on a regular harness. Dogs weighing 25 lbs.  and up must have a thick nylon leash.
Thin, rope, leather leashes are not allowed.
Important! Dogs in heat are not allowed in the training facility, day camp, or in any group classes for a minimum of 21 days. No exceptions.
Aggressive dogs are prohibited- Please contact us about our Reactive Rover Group specifically designed for aggression.
We ask that you keep up the training at home, otherwise it is a loss. In order for dogs to be trained correctly, you also have to the work with your dog at home. We require that after our initial Day Camp training, we meet with you at the end of the day, we will demonstrate the specific training skills your dog learned and will transfer the training skills handout to you so you can effectively practice with your pup at home. 
We work with a small number of dogs at a time to ensure plenty of individual attention.
We   recommend that your dog attends day camp training 2-3 times per week depending on their activity levels and behavioral needs.  It will take a few training sessions to see optimal results. When you come in for your first visit, we can discuss all available options including dog training classes that may be suitable for your needs.
First priority for spots will always go to current or returning students. 
At Dog Gone Happy Day Care, the staff are obsessive about keeping the facility clean and safe for your dog we use only the best cleaning products including regular Airborne disinfectants. Our individual custom bunks are kept immaculately clean in a climate-controlled environment.
We also keep a watch to sure that all dogs are up to date with their vaccines including kennel cough and are healthy on arrival to the center
Book your appointments in advance because space is limited. Please, no walk-ins or drop offs without a confirmed appointment and trainer approval
                                       Typical Day at our Day Camp
                                       7:30 am to 9 am – Drop off
                                       5pm – 6 pm – Pick Up
Drop your dog off between 7:30 am and 9 am Monday & Wednesday morning. Your dog will be cared for all day long. Each dog will have his own private area where he can rest comfortably between activities.                          
Training sessions are customized to fit your specific training goals. We want your input, so please let us know your problem behaviors that you would like for us to address.
We address behaviors such as chewing, barking, pulling on the leash, lunging, jumping, biting/mouthing, and much more!
One on one training sessions focuses on manners leash training, handling skills, an introduction to basic commands such as watch me, sit, wait, stay, down, release, come when called, leave it, as well as door manners, proper meet -n- greet and much more. Further work on go to your place, sit/ down/ distance, recall, brain work and games and more.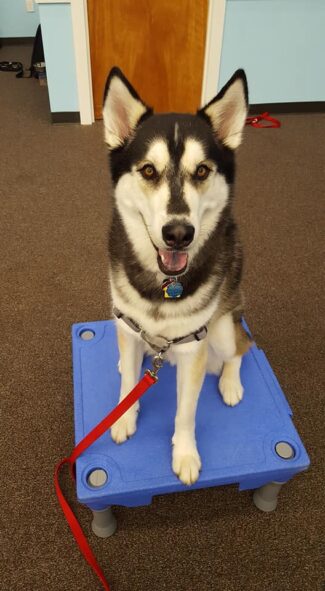 Your puppy or dog will engage in consistency of listening around distractions. Our canine students get individual training and group exposure for socializing and distraction training.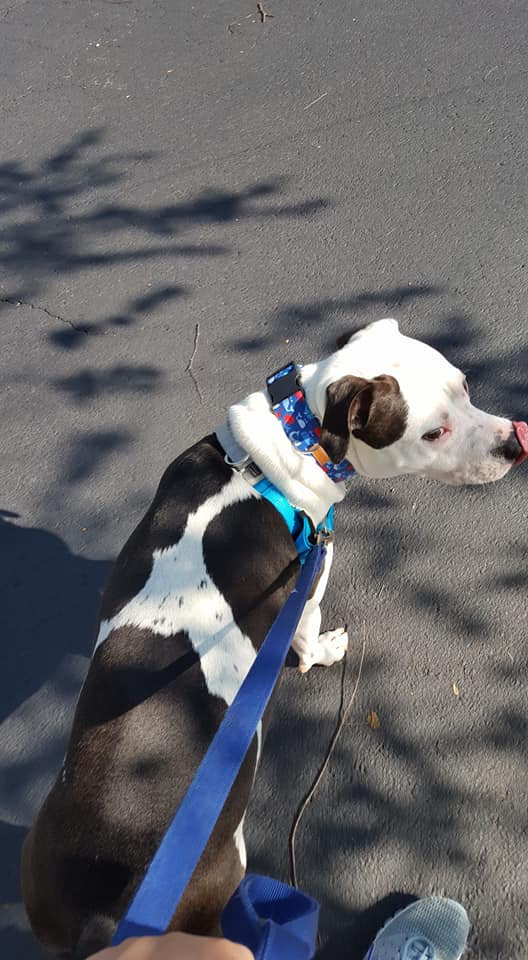 We alternate rest time with mental and physical exercise including play and lessons. Our canine students get individual training and group exposure for socializing and distraction training.
We treat each dog personally, giving it its own space with toys and bedding where it can rest between lessons, have lunch, nap time and play time.           
Our unique, school-activity approach to daycare keeps your dog busy, and happy, all day long.           
 We are very excited to bring to you the best training to you and Your Best Friend. Your dog's Home away from Home!
At Training Your Best Friend LLC, we are very proud of our love of animals, and we would never put an animal at risk in our care.     
How Day Camp Training Works
We're skilled at training dogs, but we also understand that an important part of the mix is coaching you – as a canine "parent" – to succeed in creating a healthy, happy relationship with your four-legged companion. We work hard to make learning and behavior modification a fun, informative experience for you and your pet.
Please Note: 
All off leash play will be monitored by qualified staff. Your dog will get the opportunity to play in a structured environment. These dogs are selected based on play styles and temperament, size and age. We do not allow puppies, small dogs to play with medium or large size breeds. We group play time by age, size and temperament. 
Dogs will get the socialization and exercise their owners want. We want your dog to be happy to come to Day Camp. Our goal is for your dog to go home tired but happy from mental stimulation and play.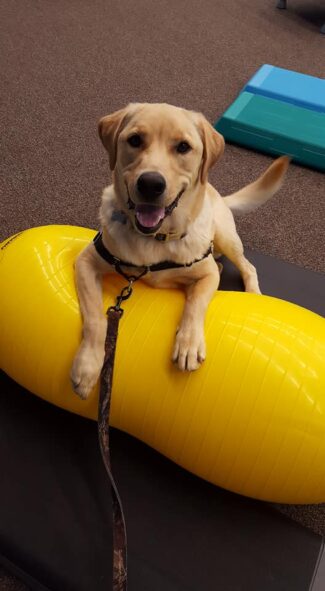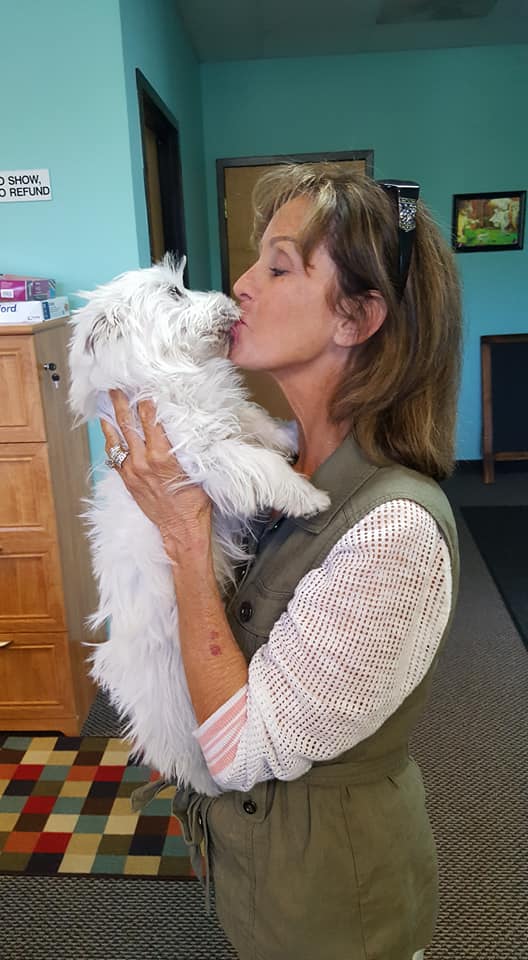 At Day Camp, we concentrate on reinforcing the positive behaviors. We encourage dogs to be polite well-mannered happy canines. 
To Enroll in our Day Camp Training, please contact Christie at: christie@ trainingyourbestfriend.com or call us at 919-368-5873