Day Camp
A tired dog is a good dog, but a trained, tired dog is even better! We know that the work involved in training a dog can seem overwhelming, so we can give you a "jump start." Think of how much faster your dog will learn with expert coaching! At day camp, we'll do a lot of the legwork for you.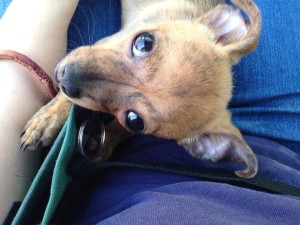 At day camp, your dog or puppy will have a busy day of physical activity (playtime), mental exercise (training time), and rest (quiet time).
Unlike traditional training "boot camps," where you may send your dog away for weeks or months, your dog will come home with you every night. You'll receive a personalized report card detailing your dog or puppy's activities from the day, and will have a chance to talk to your dog's trainer to receive daily updates and homework assignments to keep your dog's training on track. You'll learn as your dog learns, so that both of you can feel confident in your new communication!
This is not your typical dog daycare. It's a training and socialization experience that also happens to be during the day! Instead of a free-for-all environment where dogs may learn bad behaviors like bullying, barking, humping, or peeing on the floor, we will be teaching your dog how to be a good citizen. With an experienced, certified dog trainer on staff at all times, your dog will experience a structured socialization and training experience. 
Here are some additional details about the program:
To qualify for day camp, your dog should be friendly with both people and other dogs and be comfortable in a crate. (Not quite there yet? Start with private training lessons to get your dog on track before enrolling in day camp!)
We have crates available, or you can bring your dog's own crate.
You will provide a mat or bed for your dog (so that we can teach them to "go to place"), and will bring your dog's breakfast with you every morning.
Dogs must be current on vaccinations, including rabies (for dogs over four months), distemper, parvovirus, adenovirus, and bordetella. Your dog or puppy must have a negative fecal examination before starting the day camp program.
Day camp spots are limited, as we only work with a small number of dogs at a time to ensure plenty of individual attention. First priority for spots will always go to current or returning students.
Drop off time: 7:30-9:00am
Pick up: 4:00-6:00pm (pick up times are scheduled when you drop your dog off each morning on a first-come, first-served basis, so that the trainer can have time to review your dog's day with you and advise you on any homework)
Location: 3155 Wellner Dr. NE, Rochester MN
Day camp runs Monday through Friday, excepting major holidays (there is no day camp on New Year's Day, Memorial Day, Independence Day, Labor Day, Thanksgiving, or Christmas). In the event of severe weather, camp will be closed when the Rochester Public School district closes schools.
Upcoming program start dates:
June 13th – program in progress! Check out our Facebook page for updates on our Campers.
June 27th (1 spot left)
July 11th (2 spots left)
July 25th (3 spots left)
August 8th (6 spots left)
August 22nd (6 spots left)
September 6th (6 spots left)
Reserve your spot by emailing us and filling out your dog's personalized profile.  A 50% deposit is required to reserve your spot (we accept checks and PayPal), with the remaining 50% due on the first day of your dog's camp. Cancellations received at least two weeks in advance will receive a full refund.
Day Camp is a highly effective way to socialize and train your dog, but in order to maintain those good behaviors the owner must also be part of the process. We'll coach you as your dog learns so that you can be an active participant in your dog's training, (without having to do all the hard work by yourself)!
We have two programs to choose from!
Puppy Head Start Program: for puppies under 16 weeks of age at the start of their program.
Two weeks of professional training and socialization, $600.00
Start your puppy off with the best paw forward! Your puppy's action-packed Head Start program will include:
Crate training (including wait while the crate door is opened and "kennel up" on cue)
Name recognition
Potty training assistance (we will reward all outdoor potties and provide a regular schedule)
Socialization

Puppy playtime to learn about other dogs
Positive exposure to walking on new surface, navigating obstacles, and listening to sounds such as thunder, fireworks, and city noises.
Polite greetings with a wide variety of people.

Handling (teaching your puppy to enjoy having her collar touched, nails trimmed, ears cleaned, paws wiped, fur or teeth brushed, and more).
Positive introduction to a head halter or harness to instill good leash manners.
Sit for petting (instead of jumping up).
Gentle mouths (we will provide appropriate guidance to teach your puppy not to nip or bite in play, as well as redirection to a toy when she is excited).
Chew toy training (including introduction to a wide variety of puzzle toys and advice on your puppy's favorite toys, so that she learns to chew up her toys instead of your shoes).
Canine University Basic Obedience Program: for friendly dogs of any age who are already comfortable in a crate.
Four weeks of professional training and socialization: $1200.00
In this intensive learning program, we will teach your dog all of the manners he needs to be a polite member of society, including:
Name recognition (look at you when you say his name)
Sit and Lie Down on cue (and stay in place until you release him)
Sit and wait at doors
Automatically check in with you after going through doors
Crate training (including wait while the crate door is opened and "kennel up" on cue)
Indoor recall (come when called, even when playing with his dog friends)
Leave it (don't touch dropped food, leave garbage alone on walks)
Place (go to a mat or bed and stay there)
Polite leash manners (including positive introduction to a head halter or harness)
Socialization

Greet people politely (no jumping!)
Play with other dog friends
Positive exposure to new surfaces, obstacles, sights, smells, and sounds.
The Double-Whammy: combine the Puppy Head Start and Canine University Basic Obedience program, for a total of six weeks of professional training and socialization, for $1680.00.