Welcome To Puppy Kindergarten Level Two Intermediate Class
Puppy Kindergarten (Level 2) builds on the skills you acquire in Puppy Training (Level 1). The Puppy Training (Level 2) class runs for six weeks and is open to puppies aged 3 months up to approximately 8 months
Class size is Limited to 6 puppies. Cost $ 150 for our 6 week/ one hour session. No orientation.
Practical Training for Real Life. Our positive training techniques make learning fast, fun, and motivating… for all of you!.
In our fun Puppy Advanced class your puppy will continue to develop and reinforce their lifelong social skills.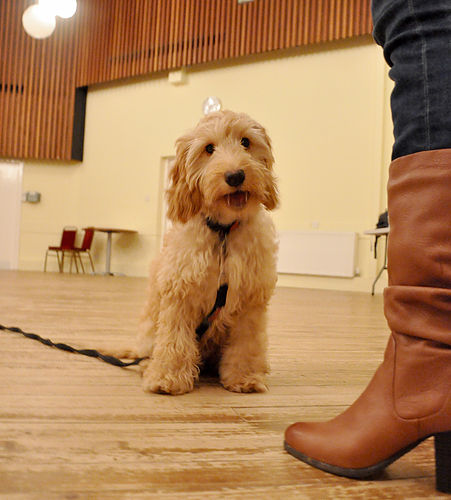 Our Puppy Kindergarten Level 2 Advanced Class builds on basic skills and adds in some new ones, this includes:
Refining Obedience Skills – sit, down, stay, recall and lead skills etc.
Sit-stay ( 5 minutes away parent)
Drop-stay (5 minutes away from parent)
Puppies will be trained with 6 foot lead
Mat training
Recall (come when called)
Loose leash walking
Leave It
Focus
Socialization with a variety of other puppies & peoplRelaxed handling
Manners – Walking nicely, jumping up, leave, settle down
Social Skills – continue to develop with other puppies and with humans, grown in confidence in a variety of settings, exercises to prevent aggression.
Distraction Skills – Working in a group setting with mild to moderate distractions.
greeting people
loose lead walking
Door manner
novel situations (walking beside a buggy, under an umbrella etc.)
distractions, duration and distance
Recommended by Vets. Our classes save you time and train your puppy quicker.
Our 6-week course combines agility, tricks and obedience in a novel and fun way to motivate your puppy to learn.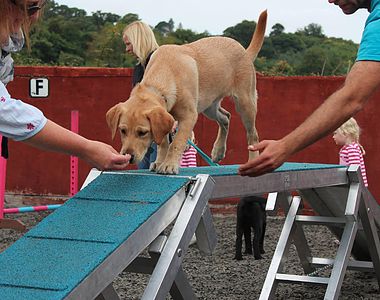 Content:
– Agility Equipment: Jumps, Tunnels, Tables / Platforms (your dog will stand on)
– Pivoting to heel
– Hand Touch to recall
– Sending dogs around objects
– Tricks: stick 'em up, handstand
– Urban Agility: turning a dog walk into a challenge!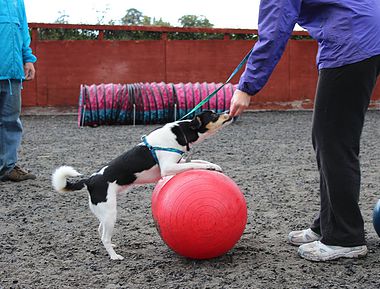 Course Goal:
– Functional training
– Skill sharpening for owners and developing independent thinking and learning for your puppy
– Improving mechanics and timing through clicker training
– Introducing capturing and self-rewarding training
Long Term Lessons:
– Capturing & reinforcing good behaviours: getting your timing on par
– Nature and the environment is your dogs playground
– Walks can be so much fun – develops a stronger recall
– Work-ups and combining tricks to put on an end of course show!
– Foster creative thinking to avoid problem behaviors and teach new behaviours
– Progress relationship-centred training through Tricks & Agility fun
Basic Obedience Class
Classes include:  puppy play period for puppy socialization, training games for the enjoyment of both puppies and owners, continuing basic commands such as sit, down, stay, loose leash walking, coming when called, leave it, and no jumping (with and without distractions.

Class Schedule
To Be Announced