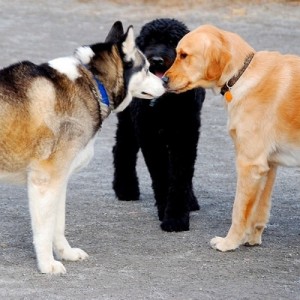 Reactive Rover Advanced is a 5-week, 5 dog class for owners who have mastered the skills from Reactive Rover and whose dogs are ready to move a little further towards socializing with other dogs. In this class, we will spend time in all 4 weeks conducting BAT set ups.
Goals of this class:
Shrink the bubble – help each dog become comfortable around other dogs at gradually smaller distances
Teach you how and when to incorporate a longer leash into your set ups to improve the training
Teach you different variations of BAT set ups to help generalize calm behavior around triggers in a variety of contexts and situations
Teach you the skills to orchestrate your own training set ups to speed up the rehabilitation process.
Build on the skills that your dog learned in the first Reactive Rover course, and introduce them into more stimulating situations. Channel your dog's energy and focus away from other dogs and back to you and the task at hand.
Some of the skills you and your dog will work together to achieve include:
Sustained eye contact with other dogs present

Introduction to Agility

Introduction to Nosework

Space Navigation/Leash WalkingReal-Life Turn-and-Go

Mat work/Settling with Distractions
Reactive Dog Package
Reactive dogs need lots of repetition, and their handlers need lots of coaching on their mechanics. Make the commitment to reduce stress for you and your dog with our Reactive Dogs Package, and save $50! This program consists of Reactive Dogs I, Reactive Dogs II, – a 600 value for just $550.
Class Schedule: To Be Announced