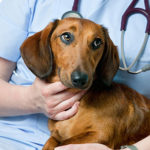 Grew up in a small town in north central West Virginia. He received his undergraduate degree from West Virginia University College of Agriculture and Forestry in 1996. During his undergraduate education, Jared was an avid hiker, enjoyed cycling, and worked at local animal hospitals. He graduated from The Ohio State University College of Veterinary Medicine in 2000 and worked as a veterinarian at an outstanding veterinary hospital in the Raleigh area for 3 years. He is the founder of Complete Pet Care Animal Hospital and is involved in small animal practice with an emphasis on internal medicine and orthopedic surgery.
Dr. Jared and his wife, Kellie, have one daughter, Katlyn, two sons, Sean and Lachlan, their Great Dane Addie, and four cats. He contributes his time and skills to the SPCA of Wake County and actively participates in community programs with his local church.

Schedule
Monday:

9:00am - 3:30pm

Tuesday:

10:15am - 4:15pm

Wednesday:

8:30am - 5:30pm

Thursday:

9:00am - 3:30pm

Friday:

9:00am - 3:30pm

Weekend:

Family Doctor
Skills
Pet Grooming - 95%

Emergency - 80%

Puppy Training - 100%

Vet Services - 75%
Education & Training
2007: Health Care

Compassionate veterinary professionals is committed to serving.

2012: Spa Services

Neighborhood veterinarian and we value each and every relationship.

2015: Babysitting Pets

We are here for you and your pets every step of the way.
Our little miss Koko is in training classes with mom at Training Your Best Friend LLC! She is doing so Good! If you are looking for the best, most professional training, at an affordable cost look no further!
Check out my girl! I am so proud of Raven! For the ones that know us – Raven was a handful in the beginning and I tried numerous trainers to help me with her. A huge thanks to Christie Fernandez with Training Your Best Friend for believing in her despite her breed and continuing to work with us! Christie is a huge fan of Pit Bulls and is dedicated to helping the dog/owner be successful! Becoming a breed ambassador is as much of a responsibility of the owner as it is of the pit bull at the end of the leash! WE love you!!
Christie Fernandez…her class helped Biscuit (a rescue ) and us so much….her training saved Biscuit's life…we can now help him navigate over the bridge of trust…thank you again!! This class saved our pet….all of us now know how to intervene and to help Biscuit feel safe…and live with less fear…if you have a pet who is "reactive"…give Christie Fernandez a call…time with your pet can become enjoyable! Biscuit says "Thanks Christie!"
My challenging Mei-Ling graduated from Puppy Kindergarten-it was a lot of work, but so worth it! Highly recommend Training Your Best Friend, if you have a fur baby that needs any kind of obedience training. This was so much fun! Thank you Christie-you have taught me and Me-Ling so much and will be forever grateful!
My Calendar
Put your booking instructions here. Or you can save It blank in case of nothing want to display.