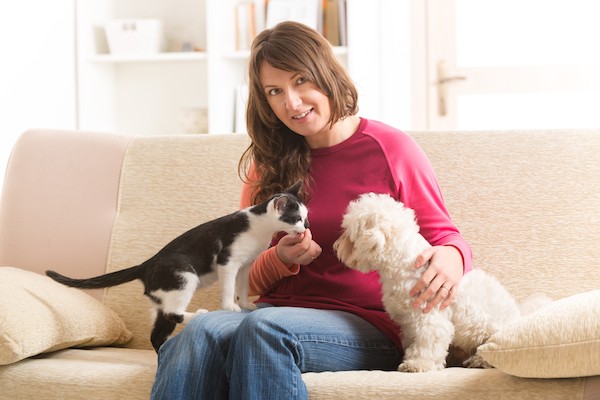 Tips for Teaching Your Dog to Greet Other Pets Politely
What a luxury it would be for some pet parents if their dogs politely greeted each other by shaking paws and exchanging stories of their favorite smells. In reality, however, dog-to-dog greetings are rarely that smooth. They tend to be excitable or cautious affairs where vocal and physical language is quickly read, risk is assessed, and confidence is tested.
Outdoor greetings
If you choose to do an on-leash greeting, the leash should be loose, and your body language should be calm and relaxed. Any tension or nervousness you feel will be felt at the other end of the leash.
Keep initial nose-to-nose greetings quick. Let the dogs touch noses and sniff bottoms for a moment, and then take them on a walk side by side, or have one dog follow the other for a time. This is often a good way for dogs to relax around each other without having to be in each other's space.
A good technique for keeping outdoor greetings conflict-free is teaching automatic eye contact. Teach your dog to look at the approaching dog and then look back at you for praise and reassurance.
If you feel an approaching dog could be a potential danger to you or your dog, do not let your dog greet. Even when another pet parent assures you that "my dog is friendly," always trust your instincts.
Dogs who are nervous or overly excitable on leash might do better greeting other dogs off-leash in a safe, neutral environment.
Indoor greetings
If you want to bring another dog indoors, allow the initial greeting to take place on neutral ground outside first, if possible. If this is not an option, these techniques can minimize the chance of a negative reaction.
Remove any objects your dog might guard when another dog comes into the home, such as toys or food bowls.
Start by having both dogs on leash. If they do well with the initial introduction, you can drop the leashes — but keep them attached in case you need to safely separate.
Watch for any sign of tension, such as body stiffness or rigid tails between the dogs. Praise calm, relaxed, and confident behavior.
Dog-to-cat greetings
If your dog is meeting a new cat for the first time, bring the cat in a carrier so your dog can smell him and the cat feels secure.
Let the cat out into a confined area, keeping your dog on leash. Allow them to smell each other, and watch your dog's body language for any signs of predatory behavior.
Always give your cat a safe space where he can hide, away from your dog's reach. Cat trees provide great high places to escape to.
Never leave your dog and cat unsupervised unless you are absolutely sure there is no chance of your cat being injured.