What Is Reactive Rover?
Reactive Rover is a 7 week Behavior Modification Program
Our Reactive Rover class is intended to help owners with reactive dogs (dogs that react negatively to other dogs and/or people) exhibiting behaviors such as growling, barking, lunging, shaking, or shutting down in the presence of such stimuli) Learn better management and handling skills based on "BAT Behavior Adjustment Training for Reactivity", by Grisha Stewart. If your dog is not aggressive and you just want to teach it all the basic commands such as: watch me, sit, wait, stay, down, stay, come when called, and leave it; check out our Dog Obedience Training Classes.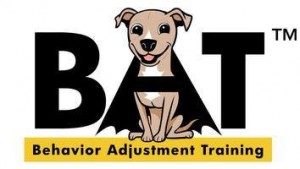 Our first class is a 1.5 hour orientation ( For Humans only). So, if you have stopped walking your dog around Raleigh because it's miserable for you and your dog, or zig-zag around the neighborhood trying to avoid all the dogs behind fences, or turn corners and dip into driveways when you see another dog coming? If you dread when people start approaching with their dog, exclaiming "Mine is really friendly!"? You're SO not alone!
We've created a program to help folks with this very common issue. The program is designed to teach you how to modify and improve this behavior so that walking is not so stressful for EITHER of you. Then, the program will give you lots of opportunity to practice with your dog and see improvement – in a low-stress, VERY well managed, "I-had-no-idea-this-could-be-so-relaxing-and-stress FREE.
We focus on helping the dog learn coping skills, building confidence and giving the owner tools to read their dog to help them through scary things. In this class we will show you how to change your dog's reactive behavior. You will learn to lower stress (in both you and your dog), build calmness and attention, train alternate behaviors to reactivity and/or over arousal, reinforce the absence of reactivity, and most importantly build your dog's confidence and trust in you providing a safe emotional state which will facilitate behavior change.
Reactive Rover Training Classes in Raleigh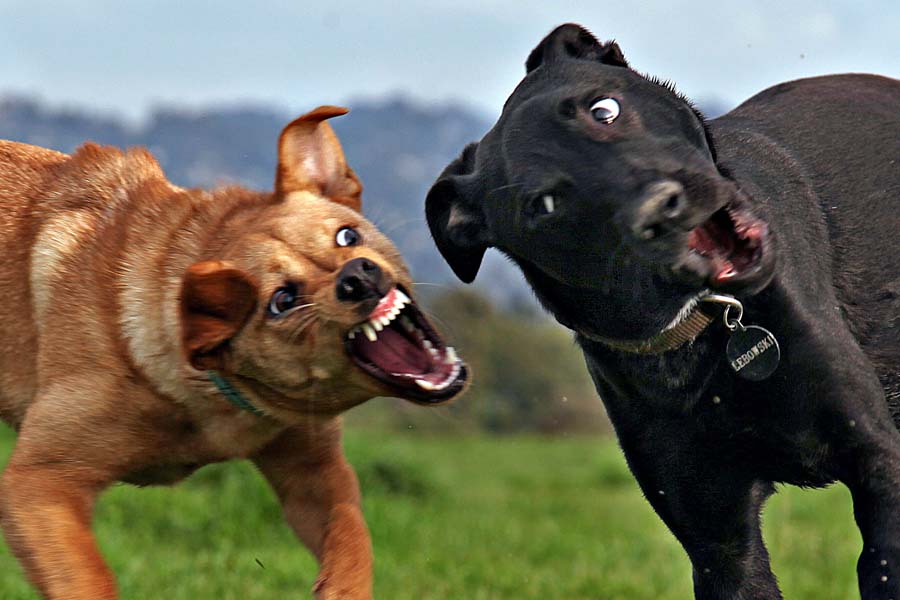 Cost for 7 week program: $225
Reactive Rover class is a 7 week program specifically designed to teach handlers how to manage and retrain appropriate behavior for dogs that lunge, bark, growl, are reactive, aggressive, fearful or anxious to other dogs while ON-LEASH.
You will practice and be coached on strategies using reward-based training, the use of behavior markers, dog body language, relaxation techniques and appropriate use of space.
Who Should Take This Aggressive Dog Training Class
Does your dog bark and lunge at every other dog you pass on walks?
Do you just want to have a peaceful walk around your Raleigh neighborhood?
Then this is the course for you. You will learn to better read your dog and to help your dog learn to make better choices in stressful situations. You and your dog will gain confidence in handling situations that used to make your dog react aggressively. The course is structured around clicker training fundamentals based on the works Click to Calm by Emma Parsons, and Controlled Unleashed by Leslie McDevitt. Only reward-based motivational and positive training methods are used.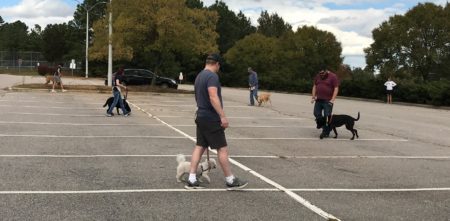 Dogs that bark and lunge on leash need a specially tailored class in order to succeed. Reactive dog classes use small group sizes and careful space management to keep your dog focused and relaxed enough to learn. This also helps prevent any conflicts that might cause setbacks to your dog's training.
Do you tense up every time you're walking your dog on-leash towards another dog? Will she bark and lunge again, scaring the other dog and owner while stressing you out? If the answer is yes, Training Your Best Friend Reactive Rover class uses professional dog training techniques, indoor visual barriers, and a 2-to-1 student-to-teacher ratio to get your dog's aggressive behavior under control so you can go where you want in Raleigh without worrying.
The goal of this class is to help your dog learn to make choices for alternate behaviors to replace their aggression and to help them become more comfortable in the world and to help you read and handle situations as they arise without loosing your cool.
This is primarily a behavior modification and handling-skills class. The exercises work on changing the dog's underlying fears, emotions and decision making. The class includes one-on-one class time with each dog while the other dogs will be relaxing out of sight nearby. All dogs will be evaluated as individuals within the class setting. Your dog will have exposure to safe dogs and other student dogs over the course of the classes. We treat each dog as an individual and move at the pace they are able to absorb.
Critical skills, Handling Techniques & Complex Dog Body Language Training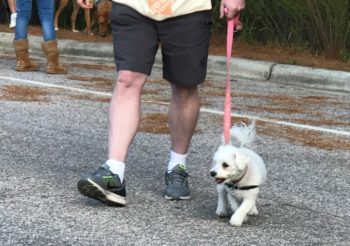 Our Reactive Rover Class is conducted outdoors with plenty of room to move around. Dogs are trained in groups of one or two at a time so they are never overwhelmed. Each dog/handler pair is encouraged to progress at their own pace, paying careful attention to what your dog is comfortable with. Your dog will learn good leash manners and to be calm, relaxed and happy in the presence of other dogs. You as the handler will learn how to read your dog's mood in order to avoid trouble, how to deal with problems when they arise and how to set your reactive dog up for success in her daily life.
Leash aggression is very prevalent in dogs today, and is one reason that many owners are afraid to socialize their dogs. It is however quite common to have a leash aggressive dog that is very friendly off leash.
The vast majority of dogs that growl, bark, and lunge on leash are not aggressive dogs. Their leash issues are usually caused by walking in an excited dominant state. When the dog feels high levels of frustration from being restrained by the leash and collar, aggression can start to occur. This is why I have coined the term Leash Frustration as opposed to leash aggression. Many owners who have dogs with this issue, make the problem worse when they pass another dog by tightening up on the leash and further frustrating the dog.
Aggressive Dog Training Class Coverage:
What to do when your dog gets aggressive – and how to predict and prevent aggression towards other dogs
How to use behavior modification to eliminate your dog's embarrassing (and unwanted) behavior
A progressive training approach that starts with small steps that lead to bigger steps
The goal of this class is to help your dog learn to make choices for alternate behaviors to replace their aggression and to help them become more comfortable in the world and to help you read and handle situations as they arise without loosing your cool.
Dogs who bark, lunge, growl, snarl and bite can be frightening. Living with a dog like this can also be heart wrenching and confusing. Christie Fernandez is well known for her compassion and effective approach to helping dogs with these kind of problems.
Does your dog…
Seem unpredictable other around strangers
Appears to be dominant with you and other family members
Goes wild when he sees other dogs on walks
Guards his toy or food from other dogs in the family
Makes you wonder if there is hope
You've found the right expert- and there is hope! Contact Christie today.
This class is LESS appropriate for dogs who:
Exhibit predatory chasing behavior
Resource guard objects or food
Join Our Aggressive Dog Training Courses and Gain Confidence Walking Your Dog in Raleigh
In this Aggressive Dog Training class you'll learn:
How to implement a Positive and Humane training program into your dog's life
Techniques to help your dog cope and not have an outburst with his/her triggers
Techniques that give you the skill and confidence to help and handle your dog
To read your dog's, sometimes subtle, communication signals and interpret them correctly
Why its important to advocate for your dog. When and How to do it
Exercises that will build a deeper and stronger bond between you and your dog, based on trust
What Desensitization and Counter Conditioning is and how to use these proven scientific methods to help your dog.
We will support you and work with you to teach you effective, positive reinforcement tools and methods to help your dog. Training and behavioral modification are only as good as the owner's willingness to implement them. If we feel the dog needs to continue with Reactive Rover 2 or behavioral modification, we will say so. We will be sincere and honest with you.
It is important to note that your dog's success in this class depends on your ability to attend class and practice the exercises between classes, manage the dog's environment and refrain from using aversive or punitive training techniques that might confuse the dog. Praise, touch, play and food will be used as reinforcement in our classes.
Upcoming Class: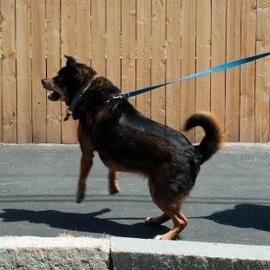 Date To Be Announced
Orientation is held at Dog Gone Happy Day & Boarding Facility
located at 7041 Old Wake Forest rd.( across from BJ"S & Big Lots).
Training Classes are held Wakefield Middle School
Location: 2300 Wakefield Pines Dr, Raleigh, NC 27614
Cost for 7 week program: $225
Enroll In Our Reactive Rover Training Course In Raleigh Today!
Enroll in Reactive Rover Training Classes, to work with the owner – an experienced dog trainer, and dog lover located in Raleigh. See your dog's behavior improve and your bond strengthen with your beloved pet with our Reactive Rover aggressive dog Training Class. Check out our obedience training classes if you want to teach your dog proper manners. Call today at (919) 368-5873, or fill out the contact form below.
[c