Fearful Fido – Scared Dog Training Classes in Raleigh
Fearful Fido Is A Dynamic Seven-Week Curriculum For Dogs 6 Months And Older.
Does your dog cower at people or other dog or other things in his environment, even inanimate objects? Does he appear to be scared either in his own home or out in public? Does he seem frightened of the world around him in general? Or maybe it's just strangers or new dogs, or even the vacuum cleaner? The Fearful Fido class is appropriate for fearful dogs that are ready to try a class environment, but need a controlled and calm setting. It is a Behavior Modification Curriculum designed for the dog who is very anxious in new situations or around new people or dogs. This course is not intended to teach your dog basic obedience manners such as: watch me, sit, wait, stay, down, stay, come when called, and leave it. If that is what you are looking for check out our Basic Obedience Training Classes.  [This class is available to dogs at least six months old, so this is a puppy dog training class – after this class your best friend might be ready to take the Obedience Training Class.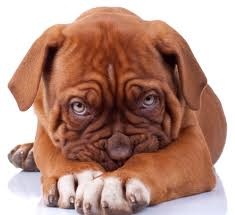 Enroll in Our Fearful Fido – Anxious Dog Training Classes
Class begins Wednesday, June1 (7:00 pm to 8:00 pm)
Class size is limited to 6 dogs!
The first class is orientation which is held at
Dog Gone Happy Day Care & Boarding 7041 Old Wake Forest Road. (Across from BJ's – Triangle Plantation Shopping Center).
Cost for 7-week course: $225
Who Should Take This Fearful Dog Training Course?
This class is for the dog who consistently reacts by showing fearful behaviors like trembling, whining, hiding, shutting down, snapping, or fear biting. The goal is to increase overall social confidence and help show you how to safely manage and support your fearful dog. Through reward based training games and desensitization, we will help you build your dog's confidence and create a positive environment to ease the fears of your shy companion.
Fearful Fido is designed to build self- confidence and will teach you how to help your fearful dog cope with and ultimately enjoy new experiences. This class will cover techniques and skills to help your dog deal with their fear. Classes deal with learning to read dog's body language and understanding how to make your dog more comfortable and relaxed in different environments and around people and other dogs.
We will also work on desensitizing dogs to different triggers and creating positive associations with things they are normally scared of. Throughout class dogs will also participate in different activities to help boost their confidence. Our Raleigh classes are held outside in real life scenarios where we can slowly teach your canine that he can trust again in a safe conditioned environment.
Fearful Fido is not appropriate for aggressive dogs. If your dog is aggressive, check out our reactive rover aggressive dog training classes. If you are unsure about which class to take with your dog, please give us a call.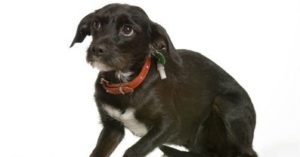 If your dog is afraid of someone in your home, guests, other dogs, afraid of experiences new environment, your dog will make wonderful progress in our class.
Dealing with challenging behavior from your dog can be very isolating and leave you feeling like you are the only one out there with a difficult dog. This is definitely not the case and the fearful fido classes are designed to increase confidence in the handlers as well as in their dogs.
Having a support network of people who understand and are dealing with the same thing is very comforting and we know you will pick up some very important skills and tips.
Fearful Fido is aimed at building confidence through the use of positive reinforcement, desensitization and successful experiences.
Our Fearful Fido classes are different than anyone else's because it is not in one classroom setting and this is one of the main reasons why it works. Classes are held in real life scenarios where we can slowly teach your canine that he can trust again.
Our seven week curriculum will teach you the necessary techniques to begin a behavior modification program that will help your "fearful fido" become a "brave buddy" by building their confidence and giving you a better understanding of how to help your dog.
The first class is orientation ( Handlers Only) to help you prepare and your dog for the class and what to expect.
Orientation is held at Dog Gone Happy Day Care & Boarding Facility in Raleigh. Classes are held at various locations in North Raleigh off Fall of Neuse road.
What To Bring To Our Scared Dog Training Classes
You will also need LOTS of yummy treats – High value training treats such as meat or cheese are good. You will be using a lot of small food rewards so you will need to wear something that has easy access pockets so that the treats do not fall out or a training treat pouch designed for the job.
You can also bring your dogs favorite toy too – this will be essential if you go on to do Fearful Fido Agility
You may wish to bring something to keep your dog entertained between turns. Examples could include stuffed and perhaps frozen Kongs, dog chews such as: meaty bones, pigs ears, Deer antlers, bully sticks squeezy cheese in a tube for refilling interactive toys etc.
Please also bring a blanket or lightweight bed for your dog to settle on during the lesson.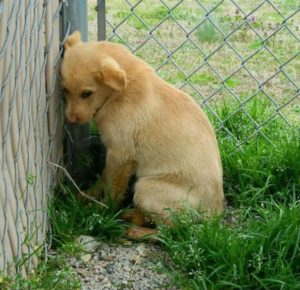 Upcoming Fearful Fido – Anxious Dog Training Classes
Class begins Tuesday, May 13 (7:00 pm to 8:00 pm)
Class size are limited to 5 dogs!
First class orientation Location:
Dog Gone Happy Day Care & Boarding in Raleigh
(7041 Old Wake Forest Road).
Cost for 7-week course: $200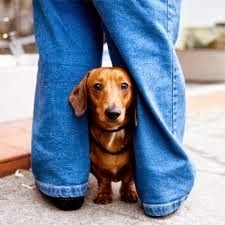 Enroll In Our Fearful Fido Scared Dog Training
Class In Raleigh Today!
Enroll in Reactive Rover Training Classes, to work with the owner – an experienced dog trainer, and dog lover located in Raleigh. See your dog's behavior improve and your bond strengthen with your beloved pet with our Fearful Fido scared dog training class. Check out our obedience training classes if you want to teach your dog proper manners. Call today at (919) 368-5873, or fill out the contact form below.