Puppy Training Classes Available in Raleigh
Puppy Kindergarten is a eight-week program for puppies 8 weeks to 5 months of age
Our Puppy Kindergarten Program in Raleigh is an exciting program to get your puppy off to a great start. It's the perfect place to start the learning process with your new puppy. Our puppy classes focus on getting solid basic dog training started in a fun, result driven way. We incorporate fun games and introduce your puppy to agility obstacle courses as a way to build confidence, have fun, motivate your puppy to learn while at the same time we are working with you on handling and training skills.
March Puppy Kindergarten Class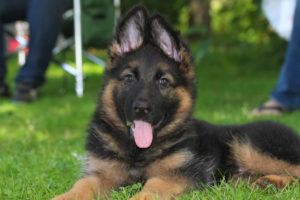 Puppy Group Class Details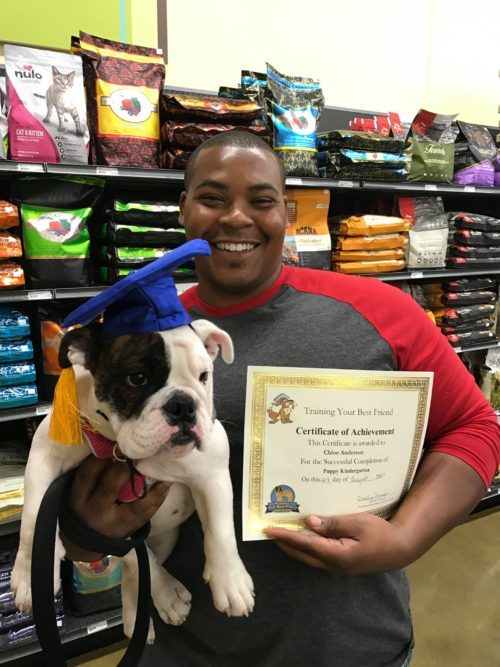 Our 8-week interactive puppy class focuses on social skills and introducing your puppy to other puppies and people, as well as new surfaces, noises, objects, and obstacles in a positive way. An introduction to basic obedience commands such as watch me, sit, wait, down, stay, come when called, leave it, walk nicely on a leash and door manners.
We cover important puppy topics during class such as house training, crate training, nipping chewing, jumping, barking, guarding and more.
Age requirements: For puppies 8 weeks to 5 months of age.
Class size: 6 puppies
Prerequisite: All puppies must be up to date on the required vaccinations, as per a veterinarian, and must be brought to orientation. For Puppy Kindergarten we require the first DHLPP or DHPP vaccine (specifically Distemper and Parvo) and negative fecal test.
Benefits of Training Your Puppy
The first few months are so important. Puppies are most responsive to new experiences during this stage of life. Much of what puppies learn about their behavior and their environment is lasting and creates the foundation for adult behavior and problems. It is essential for puppies to have safe and positive experiences as they encounter life in a human's world and this process occur without compromising the health and safety of your puppy.
Positive reinforcement training will give your puppy a head start on important household manners, social skills and obedience commands thus, creating lifelong good habits and preventing bad habits. Puppy group classes help owners understand and acclimate to having a puppy in the house as well as giving you the knowledge and tools to help get you through the "puppy stage." This also helps to prevent larger behavior problems down the road.
Our Puppy Kindergarten classes are located in Raleigh and are designed to strengthen the bond between you and your puppy as well as provide a fun learning and socialization experience for your new puppy.
Puppy Kindergarten Curriculum
Our Puppy Kindergarten Curriculum is a dynamic and educational group class designed to introduce the world of positive training to you in a way that will keep you challenged and excited about working with your puppy. Once your puppy has completed its puppy classes, you can continue training with our obedience training and public manners classes.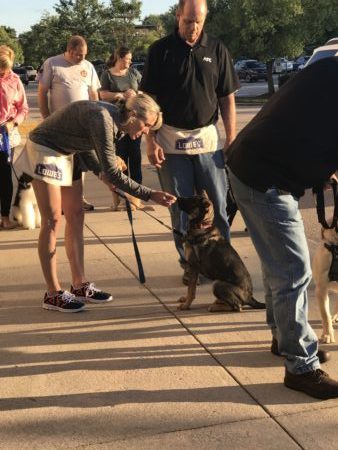 Obedience skills taught in course: watch me, sit, wait, down, come, leave it, drop it, settle, sit/ stay/ distance, place, door manners, sit for meal, target training
Behaviors Covered in Class:
1. Jumping
2. Nipping
3. Mouthing
4. Destructive Chewing
5. Barking
6. Impulse control
7. Puppy Developmental Stages
8. Potty training
9. Crate training
Life Skills: handling skills, leash training, proper harness & leash, healthy boundaries, exercise & playtime, proper toys, introduction to obstacle course, training games, and more.
What to Bring to Puppy Kindergarten Class:
4 ft. Nylon leash
Harness (no collars)
treat pouch or apron
small size soft treats
Your pup's kibble in a ziploc bag to use as lures and rewards while training and for training sit for meal.
Potty bags
Don't feed your puppy right before class.
Please feed your puppy half of what you normally feed 1 to 2 hours before class. We want your puppy to be a little hungry and accepting treats/ food for reward. We provide fresh bowls of water and break time in between training session for water and bathroom breaks.
Upcoming Group Puppy Classes in Raleigh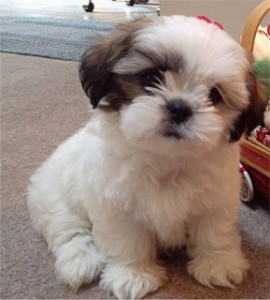 Thursday, June 23 – (7 pm to 8 pm)
Location: Dog Gone Happy
7041 Old Wake Forest Rd. Raleigh 27616 (across from BJ's Triangle Plantation shopping center off capital boulevard)
Cost for the entire 8-week Class Session: $235- We provide you with a new leash
Enroll in Our Puppy Kindergarten Program in Raleigh Today!
The earlier you start training, the easier it will be for you and your pup! Our puppy classes are run by an experienced dog trainer, who ensures every owner and puppy receives personal attention. We also offer private dog classes, puppy agility courses, and more! Call (919) 368-5873, or fill out the contact form below to sign up to our puppy classes!
Contact Us