Professional dog training for your canine.
Basic Obedience is a dynamic eight -week curriculum for dogs 6 months and older. The first class is an hour and half orientation.
This prerequisite session will provide the information necessary to prepare you for group classes. We will discuss training terms and equipment, dog behavior. socialization, and class structure so that you are able to jump into classes right away. During our orientation, we will cover Canine Cognition, how dogs learn, the importance of setting up a thriving environment in order for your dog learn successfully and to love learning. Our goal is to create a stronger bond between you and your dog to have a happy successful life together.
Basic obedience classes provide a solid foundation that will enhance the relationship between you and your dog. You will learn the skills necessary to improve your dog's behavior by clear communication, voice tone, body language, facial expressions and good eye contact. This class will focus on an introduction to all the basic commands such as: Watch me,sit, stay, down, stay, come when called, loose leash walking/leash manners and leave it.
Our Basic Obedience Level One Curriculum covers the basic commands/ cues using, handling skills, leash training, setting up proper structure at the home to reinforce good behavior as well as the importance of fulfilling your dog's physical, social and psychological needs. In addition, our basic obedience class addresses issues such as jumping, lunging, barking, pulling on a leash, chewing, mouthing and so much more.  Weekly Classes are progressive as not to over whelm you or your dog. You will receive handwritten weekly homework for take home practice with your canine. 
During our training together, we will be interjecting fun games and exercises for you and your dog to have fun learning together. Our games and fun activities will strengthen your communication skills while the dog is having fun learning. Dog training games provide so much more than mental stimulation to your dog, they enable handler manageability and encourage the dog to focus. They build the relationship between you and your dog and bring the same relationship onto another level. Through games and exercises, owners learn how to make good behavior fun so that even in highly distracting situations their dogs look to them for guidance and permission.
At Training Your Best Friend LLC, you and your dog will love learning together in a comfortable and supportive environment around other dogs and dog lovers.  We will help teach your dog essential socialization skills as well as show you how to reinforce these healthy behaviors at home. You'll both be having a lot of fun while you learn!
God has blessed our lives with these amazing animals we call dogs, out of love and respect for these creatures it is our duty to show them how we want them to behave in our human world using methods that are humane, backed by behavioral science, and proven effective
Training your dog is a huge part of responsible dog ownership. Obedient dogs are calmer, well mannered and do not have behavior problems. During the training, you will learn how to apply what you have to learned to real life situations and what is essential to keep your dog focused.
Classes are limited to 8 dogs to give you and your companion more individualized attention and ensure success and safety.
At Training Your Best Friend LLC, we practice only positive reinforcement methods and do not support punishment-based practices. We promise always to treat you and your dog with respect and patience, and to work within your dog's comfort zone – and yours! While we do encourage you to challenge yourself and your pet during class or at home, we want you to have fun and to enjoy the learning process.
Training is a form of communication between you and your four-legged friend: once you learn to speak "dog", the process is all the more rewarding.
Our emphasis is not only training commands and cues but using them in the context of your life. It is our goal to educate pet parents as well as the canine.
Compassion, Connection, and Consistency is what every pet owner should strive to have with their companion.
We focus on more than teaching your dog to be obedient.
The Four Pillars of Positive Training:
The use of positive reinforcement
Avoiding the use of intimidation, physical punishment or fear
A comprehension of the often misunderstood concept of dominance
A commitment to understanding the canine experience from the dog's point of view
Together, these four elements comprise the Positively concept of positive training. Without any one of them, the philosophy is not complete and is not as powerful and effective in building long-term relationships with your pets based on mutual trust, respect and love.
Basic Obedience Level One is a eight week curriculum. The first class is orientation that is to be attended without your dog. . Our final class is  practice session and Graduations. All dogs will be tested at our  final class.
Training Your Best Friend does not believe that after a predetermined number of classes your pup will be ready for the next level so progression to the next level of classes is determined by testing out. During testing you and your dog will need to demonstrate that you are able to complete a series of required behaviors.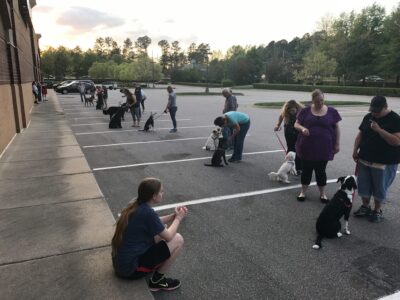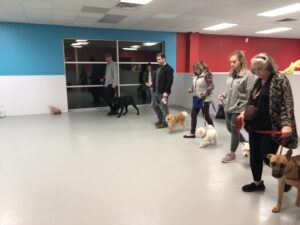 Obedience training is the very best thing you can do for the relationship you enjoy with your dog; this is why:
Basic obedience training makes life simple to your dog and eliminates confusion. Your dog will know his place in the world and understand right from wrong. Dogs seem to really appreciate and thrive on this black and white view of the world.
Fun and rewarding for both you and your dog – for me, this is what it's all about!
You'll have a happy, relaxed and confident dog who you can take anywhere and will be a pleasure to be around. Greater freedom can also be extended to your dog, as he'll be more trustworthy when obedience trained.
An obedience trained puppy or dog is a much safer dog. If your dog dashes out the front door you will still have voice control over him. You will be able to call on one of your obedience training commands such as "come" "down", "sit" or "go to your spot". This is very reassuring for any dog lover.
You gain trust and mutual respect with your dog. He understands what is expected of him and knows that you will always be fair and consistent with this.
When your dog has good manners, he will be fine around family, friends and kids under supervision. Obedience training fulfills some crucial needs in your dog's life including exercise, mental stimulation, spending time with you and providing your dog with a "job".
Dog training for obedience greatly reduces the risk of being locked in a dominance struggle with your dog. You'll be his strong and always fair leader, who he'll respect and look to for guidance.
Obedience training is a step by step process which you build upon over time. It creates a solid foundation for your dog to learn additional skills and training commands. Throughout this process your dog will be gaining confidence along the way.
PLEASE NOTE: This class is not appropriate for leash reactive or aggressive dogs
What you will need for class:
Easy walk, or three in one or front clip harness for dogs 25 lbs. and up
Regular harness for small dogs
Training treats
Training Treat Pouch
We provide you with a leash and training treats starter package
 Our Raleigh Class Schedule:
Tuesday, June 21 (7 pm – 8 pm)
Location: Dog Gone Happy 
7041 Old Wake Forest rd. 27616 (Across from BJ's Triangle Plantation shopping Center)
Cost: $235 for the entire 8-week session- We provide you with a new leash