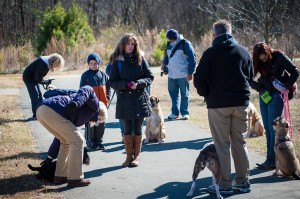 Getting To Know Training Your Best Friend LLC
Training Your Best Friend is a full service dog training company created by Professional Dog Trainer & Dog Behavior Expert Christie Fernandez. Christie named her business Training Your Best Friend because she truly believes Dogs are Man's Best Friend. Christie does not use training devices that are aversive, this includes shock collars, prong collars, choke collars, spraying dogs in the face with water, rattle cans. Aversive devices and training techniques are a form of bullying and only suppress behavior they do not teach new behavior.  The best relationships are formed by mutual love and respect.  Training should not cause pain.
God has blessed our lives with these amazing animals we call dogs, out of love and respect for these creatures it is our duty to show them how we want them to behave in our human world using methods that are humane, backed by behavioral science, and proven effective.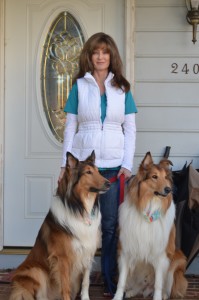 Christie is here to help you get connected with your pet and teach you the most effective way to guide and communicate with  your dog.    Our dogs are talking to us all the time through body language, Christie is here to help you learn what they are saying.
Christie's experience with dog training long began before online classes came about. Her hands on training included working with two experienced & knowledgeable trainers who were a Police officer & Sheriff that had a back ground working with the canine unit.
Christie' first experience of working with dogs was pet sitting for family, neighbors, friends and co workers. She thoroughly enjoyed every minute of bonding with their sweet furry companions . This soon led her to be the founder of my own pet sitting business " Critter Sitters" which I owned and operated for 16 years.  Christie was also a prior veterinarian assistance for 2 years.
Christie truly believes that God has given her the talent to work with all animals; specifically canines. She understand their instincts, behavior patterns and the importance of proper training. Christie takes great pride in her work of dog training and helping dog owners achieve their obedience goals. She has  helped many dogs and their owners with many dog training applications and have  saved many dogs from being put down .
Training Your Best Friend offers a variety of group classes starting with beginner to advanced courses. Whatever your situation may be, Training Your Best Friend has a program that will suit your dog's specific needs. Christie specializes in private in home training to address behavioral problems such as aggression, fear, separation anxiety, phobias and all other unbalanced behaviors. She trains all breeds, all sizes and temperaments and is dedicated to solving your dog's behavioral issues to help foster a loving, connected relationship between you and your dog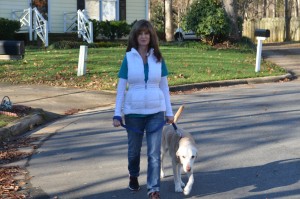 Christie is an AKC Canine Good Citizens Evaluator. She provides the training as well as the CGC testing itself.Being a professional member of the Association of Professional Dog Trainers, Christie stays up to date on the most current and modern dog training techniques, ensuring that your dog gets the very best!                 
Christie is a certified mentor for the Animal Behavior College Christie mentors students during their 75 hours of internship. As a mentor for the college, Christie's responsibilities begins with first allowing the student observe her as she teaches a class. Secondly, evaluate the ABC Student on their ability to verbally explain to her how to solve common problem behaviors, such as: housebreaking, jumping, and digging.  In addition, Christie evaluates them on their ability to explain safety guidelines and perform equipment checks for clients and their dogs.
For the next phase of mentoring, the student has been instructed to bring a friendly dog to your class and train him/her as if they were a regular client in the class. Animal Behavior College ask that Christie evaluate the ABC Student on their aptitude, or ability, for training dogs, and their ability to satisfactorily demonstrate obedience cues such as: Sit, Stay, Come, Down, Heel, and Loose Leash Walking, etc.  The ABC Student understands the actual cues taught in individual group classes can vary. 
Participation (3rd Series): During this series, the ABC Student has been instructed to help Christie teach during classes.  Their level of participation will be at Christie's discretion based on their abilities. Christie evaluates the ABC Student on their ability to explain and demonstrate how to teach obedience cues such as: Sit, Stay, Come, Down, Heel and Loose Leash Walking, etc.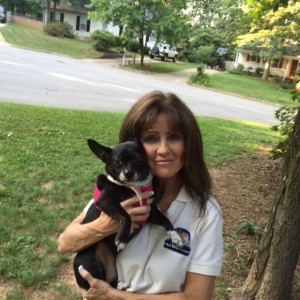 At the final end of mentoring the student, Christie will send in her evaluation to the Animal Behavior College.
A member and presenter for Doggone Safe – A non- profit organization dedicated to dog bite prevention through education, and dog bite victim support, Christie is making the "Be a Tree" educational programs available in the Wake Forest area.The "Be a Tree" program is an innovative and interactive dog bite prevention education program aimed at primary grade children.
Christie Fernandez is a committed member of The Pet Professional Guild- A membership organization representing pet industry professionals who are committed to science based force-free training and pet care. Pet Professional Guild.Members Understand: Force-Free to mean: No Shock, No Pain, No Choke, No Fear, No Physical Force, No physical Molding, No Compulsion Based Methods are employed to train or care for a pet..
Giving Back:
Christie has always worked with rescue dogs, ever since she started dog training. She feels that when you are a professional, in any field, you should also give back. Christie volunteers a lot of hours to help a lot of dogs. She has a general policy regarding rescue dogs. If the dog is owned by a reputable rescue organization and they ask for help and can't afford to pay for the training, and if she feels she can be of use, SHE WILL VOLUNTEER HER SERVICES AT NO CHARGE. Obviously, Christie can't work with every rescue dog, or she couldn't pay the bills, but She has continued to fit in rescue work for the past 26 years, and will continue to do so.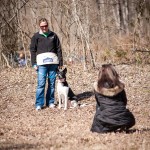 If you are looking for experience in canine behavior and training, then Christie is the only trainer you will ever need. With over 26 plus years of  working with animals and dog training, Christie's mission is to a build stronger, healthier, happier relationships between you and your dog through positive reinforcement and fulfilling your dog's needs.