Welcome to Agility 
 Agility is a popular canine sport in which a handler directs a dog through a variety of obstacles such as a tunnel, teeter-totter, tire jump, weave poles, pause table, and standard jumps.
Class Prerequisite: Dogs must be at least one year old and successfully completed our Public Manners class and or CGC Title. First class is orientation with out the dogs
Agility training is a great way to exercise your dog and fulfill his natural instincts. One of our most popular courses and suitable for all dogs, this fun course will take you and your dog right through from the basics of agility to running a full agility course – over hurdles, through tunnels and tires and over contact equipment such as the A-frame.
This eight- week class introduces the handler and dog to agility handling, while building confidence with the obstacles. The equipment is set to the lower heights for beginners. All exercises emphasize safe handling techniques, focus and control for accuracy. Channel weaves in this class will go from slightly open to semi-closed the teeter and jump heights will slowly be adjusted the height.
The dog and handler will work through basic short sequencing of obstacles focusing the handler learning how to direct a dog through a course. Advancement to the next class depends on the dog doing being confident with all obstacles and working as a team with their handler. Dog and handler teams will be moved up according to their ability to complete these exercises. A few sessions are usually needed before being able to move on to the next level.
Here are the four main benefits of agility training for your dog and why you should try it.
1.

Agility will fulfill your dog's natural instincts
In the wild, dogs are natural hunters, chasing and running after a variety of prey. While in pursuit of food, dogs must often follow rabbits and foxes through a forest and navigate through a variety of barriers. Their natural instincts involve jumping over fallen logs, climbing up steep slopes, and squeezing through bushes and vegetation. Since the end goal is to catch up with prey, time is of the essence and the faster a dog runs, the better their chances of ending up with a satisfying meal. Agility courses are designed to mimic these types of natural scenarios and fulfill the hunting and chasing desires of your dog.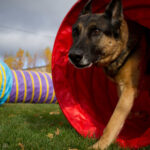 2.

Agility is great exercise for your dog
Agility is a great way to get rid of your dog's excess energy. Running through a course that involves passing over and through a variety of obstacles will challenge your dog's mind and body. Involving your dog in agility will help to strengthen his muscles, improve coordination, keep him fit, and increase endurance.
3.

Agility will help you get in shape, too!
As the handler, you will be running alongside your dog, and assisting him with soaring over jumps, weaving through poles, and crawling out of collapsed tunnels. While you and your dog compete to swiftly finish the course, you will be treated to a heart-healthy cardiovascular workout.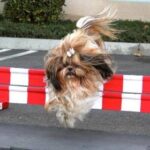 4.

Agility helps strengthen the bond between you and your dog
Agility courses are set up so that dogs would not be able to complete them without the help of the handler. As the dog must rely on the verbal and hand instructions from the handler in order to navigate the course, the trust between owner and dog will be increased. Helping your dog to pass through agility obstacles will help reinforce basic obedience commands, improve dog/owner communication, and ultimately help to improve your dog's behavior outside of the agility course.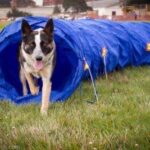 Benefits of agility training:
Much needed exercise which is a basic need of every dog: Your dog gets a great workout, building strength, flexibility and aerobic fitness.
An improved bond between you and your dog:
Leading to a better all-around relationship as you learn to work together and negotiate the obstacles.  You learn how to communicate and read each other's signals and best of all you're outdoors and having a good time together
Agility burns off energy and addresses boredom
This leads to a reduction in destructive behaviors around the home and even helps address some forms of aggression
An increase in confidence and self esteem
Agility is really good for nervous and anxious dogs to build up confidence in their own ability and their trust in you
Sharpens your dog's mind
Your dog has to do a lot of thinking and gets great mental stimulation, increasing awareness and alertness.
Better basic obedience
With the ability to follow instruction and increased trust and confidence
Perfect outlet for working dogs, high energy and active breeds.
Class Schedule:  Saturday, May 7 (3 pm- 4 pm)
Location: Dog Gone Happy
7041 Old Wake Forest Road 27616
Cost: $210 for the entire 8-week class session